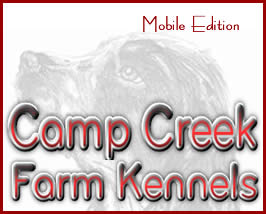 Home



FAQ



Contact



Hours



Rates



Location



Reservations



Local Links
Camp Creek Farm is a small but unique dog boarding facility located in rural Pike County, Ohio just off of Rt. 32 East. Our goal at Camp Creek Farm is to do more than just keep your dog safe and comfortable. We do our best to provide the love and attention that your dog would receive at home. Each dog needs are considered on an individual basis.
Your dog will have the run of the yard personally each time he or she goes out and the outdoor kennels provide socialization while keeping your pet safe.
For all dogs there is lots of time outside. Some activities include ball toss, fetch, or just walk around our two acre fenced area. All of these activities provide hours of stress reducing fun. The water lovers will enjoy our 20 foot concrete swimming pond. Even the land lubbers will splash and play in the water when the weather is hot. There is a lot of time spent just sitting on the front porch with lots of pats and hugs. We will also brush the dogs as a means of relaxation if the dog enjoys it.
After a full day of fun your dog will retire to our climate controlled kennel with a 16 x 16 indoor run or for dogs who are used to the outdoors, the barn kennel may be just the place. In either building they will each have their own comfortable cot like bed. There is low music playing in both buildings. Life is good on the farm so if your dog is not able to join you on your trip why not let him/her come to the country to play and relax.

Contact the Owner: Deb Shepherd By Phone: 740-493-3541 or 740-222-2667
All Rights Reserved ©Copyright 2008 - 2014 Camp Creek Farm Kennels
Camp Creek Farm Kennel is a small but unique dog boarding facility located in rural Pike County Ohio near Piketon Ohio 45661
just off of St. Rt. 32 East. Our business evolved from our love of dogs and our involvement in all dog rescues.
Website Design, Domain Name, Website Hosting, and SEO By OhioWebDesigns.Com